Zazzle Media, by Jamie Leeson
2016 is definitely the year for super-rich colors online. Whereas in the past, many brands and designers have typically stuck with web-safe colors, more brands today are being braver in their approach to using color, as we're seeing with over-saturation, vibrant hues and a resurgence in the use of gradients. This in part is helped by technological advancements in monitors and devices with screens that are more apt at reproducing richer colors.
The use of bolder colors in web design is helpful in attracting the attention of users, but it's also a signifier of change for brands, as many make a conscious effort in 2016 to try new things and break new ground, moving away from the previously established, 'safer-bet' practices.
A good example of this is with Spotify's recent update to their branding, moving from their well established, and 'safer' green color, to a more noticeably vivid hue.
Although the actual aesthetic of it was met with mixed reviews, the music streaming brand justified it as a necessary change, as they shift their brand focus and reputation from being a primarily 'techy' company, to being a purely music focused brand.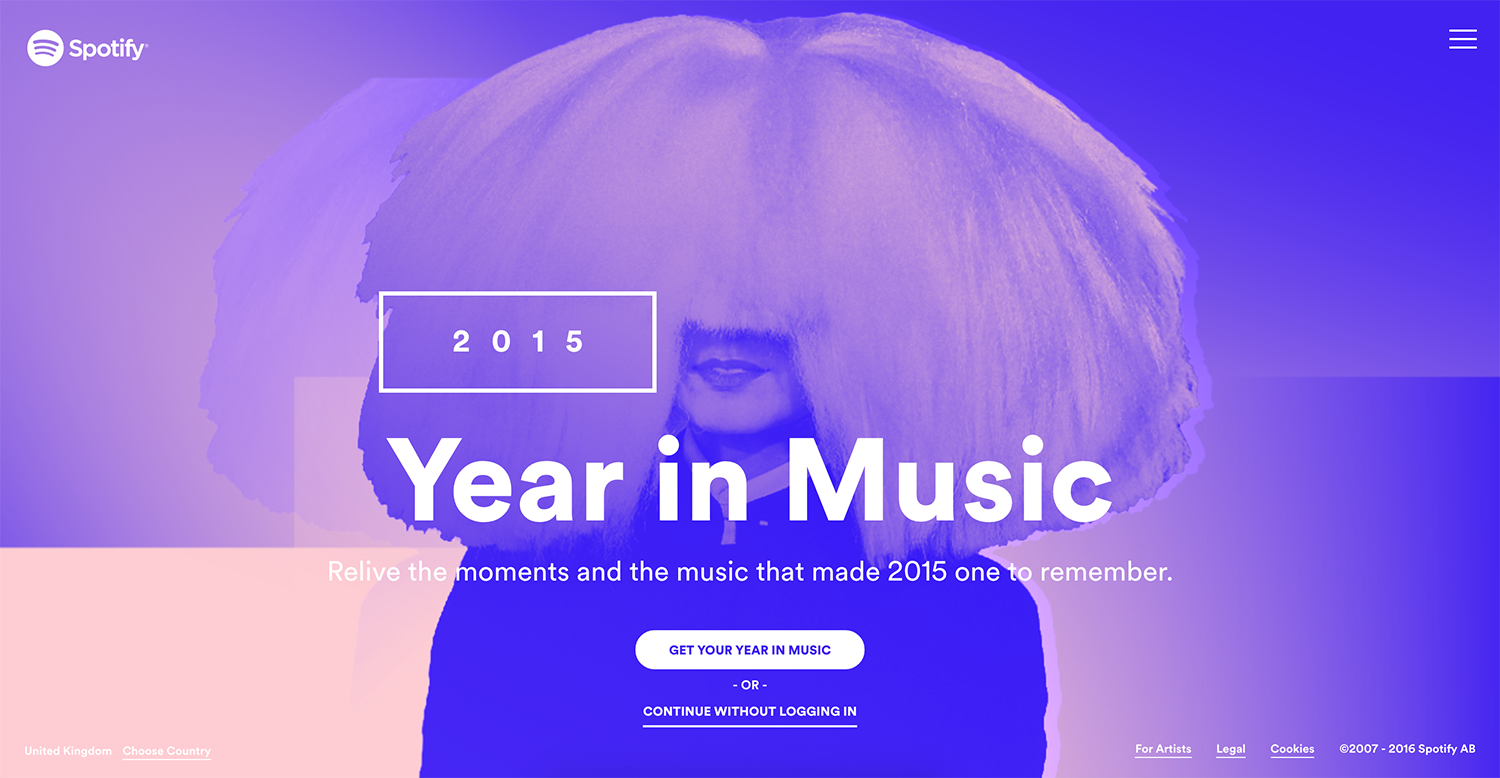 Spotify is really being brave with their color palette in 2016, as their recent brand update and their above Year In Music interactive site shows Expect to see more brands adopt vivid color schemes in their online content.
For brand's who are looking at revamping their color palettes in 2016, we'd recommend checking out uiGradients, Coolors, and Adobe Color to ensure that your color choices are bold, engaging, and bang-on trend.
Our prediction – Expect to see more vivid color palettes online in all creative outputs, from photography, illustration, typography, video and UIs.
We also expect to see brand's take a braver approach to using color within their core branding and identity, as existing brand's re-position themselves and more start-ups launch in hope's of gaining attention and cutting their own path.