Zazzle Media, by Jamie Leeson
VR is definitely a hot topic for 2017, especially with more hardware manufacturers investing in the technology and producing headsets. See Oculus, Sony and HTC for some great examples of ones available to purchase right now.
Although the majority of these headsets are geared up for gaming and media consumption rather than web browsing, we anticipate seeing many brands attempting to mimic the VR experience online. Many brands are already creating more interactive solutions for web which directly involve the user. These experiences put the in the center of the action, viewing it all from a first person perspective and navigating it freely as if they were actually in the experience themselves.
Although we expect to see the technologies which power these experiences to develop over time, many brands are already finding clever ways to leveraging existing technologies, (such as Google Streetview and 360 video) to create these immersive experiences. With several APIs already available for developers to experiment with, (Streetview again being a popular option), these rich, immersive experiences are becoming a more achievable option for those looking to build something special.
The VR experience also opens up a whole host of creative opportunities in terms of how they look and function. Stylistically, these could range from photo-realistic explorations of lost, exotic locations on Earth, to highly stylized, illustrative adventures in space. With motion controlled technologies (see Leap Motion for example) also gaining momentum, we could soon find ourselves designing fully interactive UIs which allow the users to interact with gestures within these fictional worlds.
Our prediction: It's early days for VR itself, especially as a consumer product, but we expect to see many brands learning from the unique experiences the technology offers. Expect to see more brands experimenting with new and existing web technologies to create rich experiences which put the user at the core.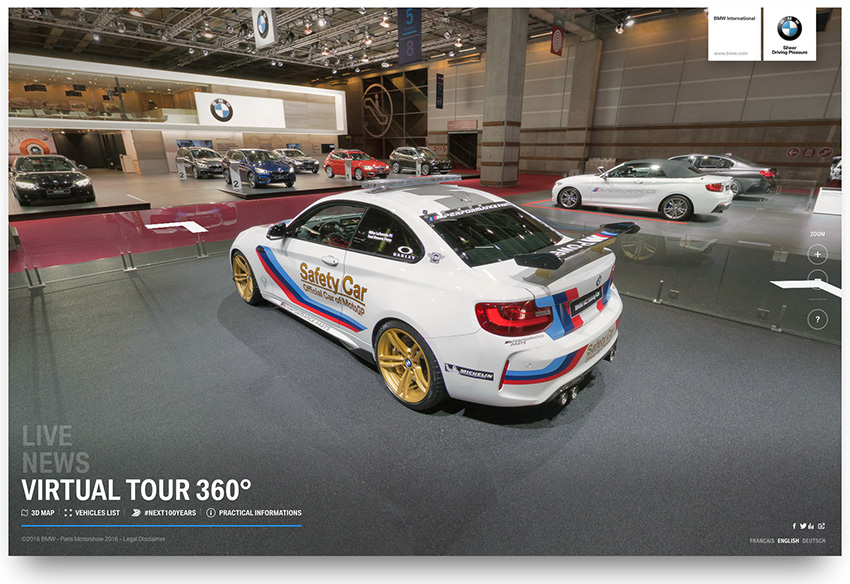 BMW released a great interactive piece last year to show off their cars at the Paris motor show. Using a Google Street View inspired approach, the experience allows you to walk around the motor show and look at the cars in full 360 degrees as if you were there. They even allow you to virtually sit inside the cars to get to know their interiors.